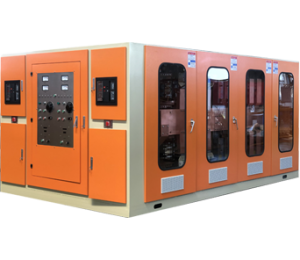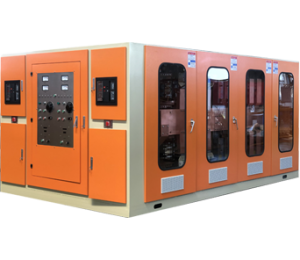 KGCX series resonant medium frequency power supply
Shandong Huaxin electric furnace specializes in the production: GW series intermediate frequency melting furnace, HQ type precision casting special furnace, GWL series intermediate frequency aluminum melting furnace, GWT series intermediate frequency copper melting furnace, vacuum furnace and other intermediate frequency melting furnace series; KGCX, IGBT, KGPS series and other intermediate frequency Power supply; fully enclosed cooling tower, pulse bag filter and other intermediate frequency furnace supporting equipment, which are widely used in casting, forging, heat treatment, mechanical thermal processing, powder metallurgy and other fields.
KGCX main advantage
1.Rectifier Circuit has been in full-on states– realizing constant power operation
2.The whole improvement of power factor–The running process always more than 0.95
3.Adopting advanced rectifier circuit-3.5.7 times harmonic up to national standards.
4.dopting series resonant circuit-high load voltage, low load loss
5.Design principle for saving energy and reducing consumption–Energy saving more than 30%
6.Can supply power to two sets furnace body at the same time-realizing uninterrupted production
KGCX technology introduction
Series resonant output power cabinet and two furnace bodies constitute one-power two-furnace melting system,output power can be steplessly arbitrarily assigned between two furnace body.
The equipment can support two furnace body at the same time.one heat preservation one melt, does not need the external devices to select the furnace bodies.Our tandem resonant desian to insure the equipment running sustained,stable and with the large load matching range